Welcome to Pathways!
Pathways' Open House with Lunch & Art Show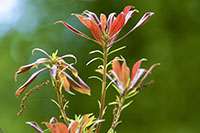 Join Pathways photography students at il Michelangelo's Italian Restaurant (located 91 Elcock Ave, Boonton Township, NJ) on Sunday March 29th  at 1pm and walk around the restaurants upper level for the opportunity to bid on and take home inspiring pieces of framed photography. While appreciating the beauty around you dine on a wonderful Italian buffet complete with calamari, bruschetta, rigatoni bolagnese, rigatoni vodka, chicken fingers & fries, crostini and olive pate, cold antipasto, and other appetizers. Afterwards, everyone is invited to walk down to Pathways main headquarters for desert and find out more about our upcoming events, programs, and to take a tour of our state-of-the-art facilities. Tickets are $18.55 (includes 3% Paypal fee) and there will be a cash bar. Tickets will be $20.00 at the door the day of the event if there are still tickets available.
Pathways is a non-profit organization that focuses on the inclusion of all students whether it comes to school, recreation, or their future careers. All proceeds will go toward Pathways Project Win-Win employment programs and classes. A special thanks to the Cascio Family from il Michelangelo's for hosting the event and providing all the delicious food. See a few of the pictures below that will be sold in our gallery March 29th.
Shop at Amazon and Donate to Pathways!
Amazon has a great new way that you can shop online with them and at the same time they will donate to Pathways. This is the time of year when all of us will be shopping a lot. What better way than to purchase gifts for the holidays that will in turn raise money for the children in our programs! Please click here and Amazon will give you all the information you need. Thank you for your support!
Taisha's Table with Dad: Chocolate Fondue
Taisha is a young lady in our Project Win Win program. Taisha is passionate about cooking and spends hours experimenting with recipes and using family favorites. Like her idol Rachael Ray, Taisha wants to start her own cooking show. Pathways combined the passion some of our kids have for video with Taisha's passion for cooking. The video above is their third video of how to make delicious chocolate fondue for the New Year. The best part of being on the film crew for Taisha is we, as chocolate lovers, got to share in this wonderful fondue! Best Wishes for the New Year! Stay tuned for more recipes that will be coming for Valentines Day, Click below to get this wonderful chocolate fondue recipe.
Pathways' Rock Band was a BIG hit!
Pathways' Rock Band was a big hit in May 2014 with their concert in front of over 400 people! Below is a small video clip of a song played! Our next concert is scheduled for May 9, 2015. We will be selling tickets soon!
Pathways Receives $80,000 in grants!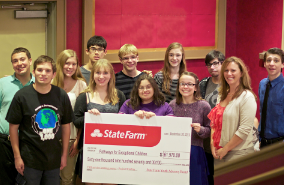 Pathways has received $80,000 in grants this fall for our Project Win-Win program!
The Youth Advisory Board of State Farm awarded the youth leaders from Pathways almost $62,000, $8,000 from Best Buy Children's Foundation, and $9,500 contribution from Novartis to transform our Project Win-Win program into a social entrepreneurship. The funding will go toward building small businesses in photography/graphic arts, video production, and music and entertainment. We are very excited as this funding will give us the ability to have state of the art programs in our Creative Studio that will emulate a professional work environment. It will give us the equipment, software, and professionals to raise this program to a social entrepreneurship. The students will work to create projects in music, film, photography, and graphic arts for businesses and organizations. The funding they generate will be used to pay them and continue to support their training and the expansion of the program and business. The greatest thing about the program is it will include the ideas, passions, and talents of children of all ability levels. The children are pictured above with Jennifer Young from State Farm receiving the check! Thank you to YAB State Farm, Best Buy Children's Foundation, and Novartis! Click on the logos below to find out more about these grantors.
Pathways Interviewed on "The Dawn" Talk Show
To download Sadhana Yoga Flyer Click Here.
The Creative Art class has been cancelled for tonight - Monday - Feb 9, 2015