Welcome to Pathways!
Are You Looking for a Job or Community Service Hours this Summer?
Pathways is looking for mentors to help out with our summer programs! We are also looking for high school studenst ages 16+ to be job coaches. This is a paid position where you will work with children in our employment training program. Click below for more details or email mjennis@PathwaysKids.org for more information!
Pathways' Rock Band Draws Big Crowd!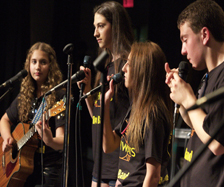 Pathways' Rock Band performed their annual concert in front of about 500 people on May 9, 2015. They did an awesome job and got rave reviews from the crowd! They scored big with top 20 hits like Uptown Funk, 4-5 Seconds, Shake it Off, Centuries, and more. The dance and martial arts kids made their appearance and stunned the audience with their performances. Finally the DJs for the first time performed in the concert with remixes of crowd favorites, a laser light show, and graphic videos all synced to their music. The rock band just finished their first professional recording and will be releasing a music video soon! So stay tuned to hear this group of children of all abilities and see their new music video! If you would like to bring them to your town contact us! They have an amazing show that will inspire all that see it!
Dancing with the Disc Jockeys!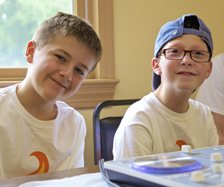 The intro to DJ class got to play for our spring dance on June 6, 2015! This class teaches about different types of music, using technology to mix and match music, performing and speaking in front of an audience, starting a DJ business, money management, and much more. The dance was a great success and the DJs got the dance floor hopping! Congrats to the DJs for such a great performance!
Pathways' Open House a Great Success!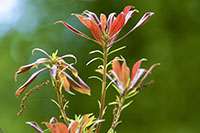 Pathways photography students had their first gallery aution at il Michelangelo's Italian Restaurant located in Boonton Township, New Jersey on Sunday March 29, 2015. They sold 46 framed photographs and made over $1200 that will go back into making their photography program even bigger and better! A special thanks to the Cascio Family from il Michelangelo's for hosting the event and providing all the delicious food. See a few of the pictures below that were sold in our gallery.
Shop at Amazon and Donate to Pathways!
Amazon has a great new way that you can shop online with them and at the same time they will donate to Pathways. This is the time of year when all of us will be shopping a lot. What better way than to purchase gifts for the holidays that will in turn raise money for the children in our programs! Please click here and Amazon will give you all the information you need. Thank you for your support!
Pathways Interviewed on "The Dawn" Talk Show
Join us on Facebook and Twitter!