Welcome to Pathways!
Exceptional Opportunities We Offer:
Sadhana Yoga to do Fundraiser for Pathways
Sadhana Yoga is doing a class for Pathways on Saturday - September 20, 2014 at 4:00pm and donating all proceeds to Pathways. So if you like yoga you can help a good cause and support our programs by going to Sadhana studio located at 150 River Rd., Unit M4 in Montville. Please see the attached flyer for more information!
We have New Exciting Programs this Fall 2014!
Pathways has been working hard all summer to expand our programs and we have some great ones scheduled! The Montville Township High School Cheerleading Coach - Kelsey Hannan and the team are beginning a class to teach all about cheerleading. The kids that get involved will be out on the football field during some of the games as a part of the squad. We have also combined with Sadhana Yoga for yoga classes and Ms. Antoinette Coppola from Ai Studios for creative drawing. Take a look at all our sports and technology classes to by clicking here.
Pathways' Rock Band was a BIG hit!
Pathways' Rock Band was a big hit in May 2014 with their concert in front of over 400 people! Below is a small video clip of a song played! If you are interested and play a bass and/or guitar let us know. We need more people to expand our rock band!
Pathways Receives $80,000 in grants!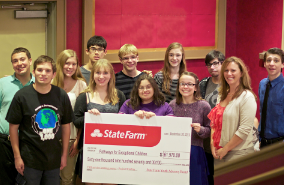 Pathways has received $80,000 in grants this fall for our Project Win-Win program!
The Youth Advisory Board of State Farm awarded the youth leaders from Pathways almost $62,000, $8,000 from Best Buy Children's Foundation, and $9,500 contribution from Novartis to transform our Project Win-Win program into a social entrepreneurship. The funding will go toward building small businesses in photography/graphic arts, video production, and music and entertainment. We are very excited as this funding will give us the ability to have state of the art programs in our Creative Studio that will emulate a professional work environment. It will give us the equipment, software, and professionals to raise this program to a social entrepreneurship. The students will work to create projects in music, film, photography, and graphic arts for businesses and organizations. The funding they generate will be used to pay them and continue to support their training and the expansion of the program and business. The greatest thing about the program is it will include the ideas, passions, and talents of children of all ability levels. The children are pictured above with Jennifer Young from State Farm receiving the check! Thank you to YAB State Farm, Best Buy Children's Foundation, and Novartis! Click on the logos below to find out more about these grantors.
The Mighty Mustangs
The Montville Township High School football is a group of young men who really understand the heart of football. All season they have truly included a 16 year old boy with multiple disabilities on their team. They are shining examples of what the game really means and have worked so hard to make sure that Jacob has been involved in everything. This video shows Jacob with the team in a pep rally for their first home game in front of the entire school chanting his name. Jacob got to carry the team flag leading his team onto the field, and for the first time in his life, Jacob ran a ball for 2 yards on the field during a real game. The Mustangs were awarded Pathways' "Make a Difference Award" on May 10, 2014 for the outstanding job they did in including children of all abilities!
Pathways Interviewed on "The Dawn" Talk Show
Click Below for Pathways' News and Events:
To download Sadhana Yoga Flyer Click Here.