Welcome to Pathways!
Exceptional Opportunities We Offer:
Harlem Wizards Back in Montville!
Sunday - February 15, 2015 at 2:00pm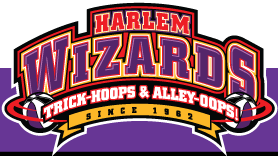 The Harlem Wizards are taking on teachers and parents that represent some of the schools in Montville Township. Pathways' basketball players will also be on the Montville SuperStar team. The game is fun and entertaining and the basketball skills of the Wizards will amaze you! Last year the game sold out so purchase your tickets soon! Tickets will be on sale for $15.00 up until Saturday - February 15, 2015 at 12:00pm. Thereafter, they can be purchased at the door for $20.00.  Courtside Plus tickets are available that offer pre-game meet and greet with 2 Wizards, pizza, and reserved front row seats. The tickets would make a great holiday gift! Click Wizard logo above to order tickets and get more information.
Shop at Amazon and Donate to Pathways!
Amazon has a great new way that you can shop online with them and at the same time they will donate to Pathways. This is the time of year when all of us will be shopping a lot. What better way than to purchase gifts for the holidays that will in turn raise money for the children in our programs! Please click here and Amazon will give you all the information you need. Thank you for your support!
Taisha's Table with Granny: Cornish Game Hens
Taisha is a young lady in our Project Win Win program. Taisha is passionate about cooking and spends hours with her family (especially Granny) experimenting with recipes and using family favorites. Like her idol Rachael Ray, Taisha wants to start her own cooking show. Pathways combined the passion some of our kids have for video with Taisha's passion for cooking. The video above is their second video of how to make some amazing cornish game hens for the holidays. The best part of being a part of the film crew for Taisha is we get to eat her fabulous dishes. Happy Holidays! Stay tuned for more recipes for New Years, a treat that chocolate lovers will adore! Click below to get this wonderful cornish game hen recipe.
Pathways' Rock Band was a BIG hit!
Pathways' Rock Band was a big hit in May 2014 with their concert in front of over 400 people! Below is a small video clip of a song played! If you are interested and play a bass and/or guitar let us know. We need more people to expand our rock band!
Pathways Receives $80,000 in grants!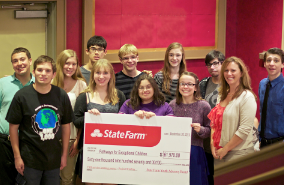 Pathways has received $80,000 in grants this fall for our Project Win-Win program!
The Youth Advisory Board of State Farm awarded the youth leaders from Pathways almost $62,000, $8,000 from Best Buy Children's Foundation, and $9,500 contribution from Novartis to transform our Project Win-Win program into a social entrepreneurship. The funding will go toward building small businesses in photography/graphic arts, video production, and music and entertainment. We are very excited as this funding will give us the ability to have state of the art programs in our Creative Studio that will emulate a professional work environment. It will give us the equipment, software, and professionals to raise this program to a social entrepreneurship. The students will work to create projects in music, film, photography, and graphic arts for businesses and organizations. The funding they generate will be used to pay them and continue to support their training and the expansion of the program and business. The greatest thing about the program is it will include the ideas, passions, and talents of children of all ability levels. The children are pictured above with Jennifer Young from State Farm receiving the check! Thank you to YAB State Farm, Best Buy Children's Foundation, and Novartis! Click on the logos below to find out more about these grantors.
The Mighty Mustangs
The Montville Township High School football is a group of young men who really understand the heart of football. All season they have truly included a 16 year old boy with multiple disabilities on their team. They are shining examples of what the game really means and have worked so hard to make sure that Jacob has been involved in everything. This video shows Jacob with the team in a pep rally for their first home game in front of the entire school chanting his name. Jacob got to carry the team flag leading his team onto the field, and for the first time in his life, Jacob ran a ball for 2 yards on the field during a real game. The Mustangs were awarded Pathways' "Make a Difference Award" on May 10, 2014 for the outstanding job they did in including children of all abilities!
Pathways Interviewed on "The Dawn" Talk Show
Click Below for Pathways' News and Events:
To download Sadhana Yoga Flyer Click Here.